News
Overlooked & Underserved: a report on pregnant and postnatal women's physical activity during the COVID-19 lockdowns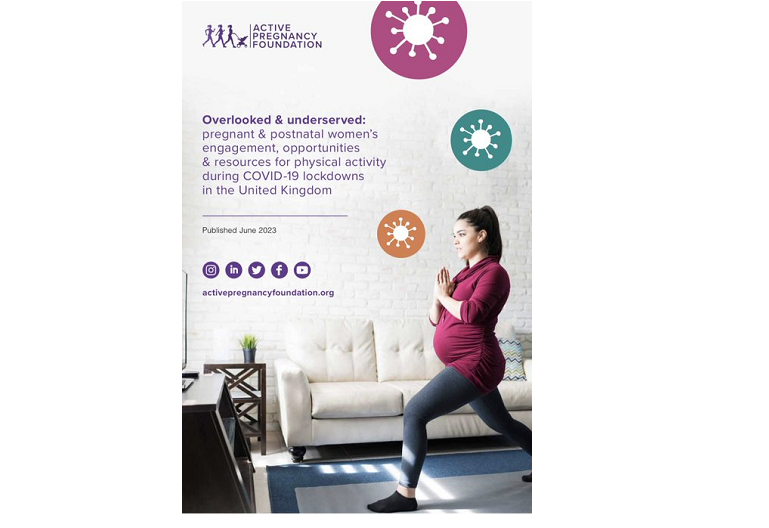 Overlooked & underserved: The Active Pregnancy Foundation releases a report on pregnant and postnatal women's physical activity engagement, opportunities and resources during the COVID-19 lockdowns in the United Kingdom.
Relatively little is known about how the COVID-19 pandemic impacted physical activity in pregnant and postnatal women. Using data collected during each of the three COVID-19 lockdown periods in the United Kingdom (April – July 2020; October – December 2020; January – April 2021), this report by The Active Pregnancy Foundation describes pregnant and postnatal women's physical activity engagement, opportunities to be active, and resources to support physical activities during the COVID-19 pandemic.
Women reported low levels of physical activity compared to pre-lockdown, with their opportunities and ability to be active being negatively impacted by the pandemic. However, women perceived themselves to be more active during the lockdowns, compared to pre-pandemic, highlighting the potential mismatch between their perceived and actual physical activity levels.
Worryingly, this report found that only 52% of pregnant and 43% of postnatal women had been given information about being active at any point during their pregnancy or after childbirth. Additionally, 80% of pregnant and postnatal women felt there was a lack of information about the activities that were safe for them to perform. This highlights the importance of healthcare professionals being equipped with the knowledge, skills and confidence to discuss the national physical activity guidelines and thereby empowering women to make informed decisions around their physical activity engagement.
Dr Kathryn Hesketh, author and Scientific Advisory Board member of The Active Pregnancy Foundation, said:

"Limited information suggests that during their transition to motherhood, women are less active than the general population; the pandemic lockdowns reduced their ability to be active even further. Some of this was environmental, for example, the closure of swimming pools may have disproportionately impacted pregnant women, particularly later in pregnancy. However, other factors, such as lack of childcare, remain a consistent barrier. Given that the benefits of being active for both mums and babies are increasingly clear, this report shines a light on how we can better support women to be active. For healthcare and fitness professionals, it provides further evidence of their important role in supporting pregnant and postnatal women to feel safe and happy engaging in physical activity, in a way that is right for them."
The report concludes with nine key recommendations, including (1) the need to adopt a whole systems approach (involving women, health and fitness professionals, and wider industry stakeholders) to better support pregnant and postnatal women to engage in the recommended levels of physical activity; (2) the need to upskill more fitness professionals to ensure women can be confident in their fitness professional's ability to support their perinatal needs; and (3) the need to increase the provision of high quality, evidence-based pregnant and postnatal classes, both online and in-person to ensure there are suitable opportunities for women to be active.
Dr Marlize De Vivo, author and CEO of The Active Pregnancy Foundation, said

"With COVID-19 cases on the rise again, we have a duty to take forward our learnings and must act now to ensure that pregnant and postnatal women are better supported to be active in a way that works for them, whether that is from the comfort of their home, online, or in open spaces."
Donna Sutton, Health and Wellbeing Lead at Active Lincolnshire, said:
"we fully support the work of the Active Pregnancy Foundation and work very closely with Better Births Lincolnshire and other local organisations to promote the importance of being physically active throughout the perinatal journey. A big part of our Active Mum's programme is upskilling healthcare professionals to feel confident to talk to women about being active during their pregnancy and postnatal period, as well as ensuring our physical activity workforce are well equipped to offer pregnancy and postnatal friendly opportunities to be active across Lincolnshire."
Click here to see our knowledge hub full on resources, training and insight for healthcare and physical activity professionals.
For new mums and mums to be, click here to see guidance, resources and blogs about being active during pregnancy and beyond.
To access the full Active Pregnancy Foundation report click here.
*Where referring to 'women' and 'mothers', this should be taken to include people who do not identify as female but who are pregnant.