Children & young people
When you're looking to support children and young people on their journey to becoming more active, talk to Active Lincolnshire. We're your dedicated knowledge hub for local activities and support.
When children and young people are more active...

Behaviour and brain function improves

Academic results improves

Attendance and engagement at school improves
Active Summer Holidays
Active Lincolnshire pulls together opportunities for children and young people to take part in activities during holiday periods. These resources can be shared with parents or careers looking for ways to keep children entertained over the summer holidays.
My Active Summer Log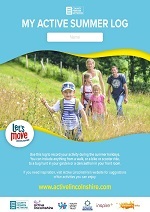 Children and young people should aim to do at least 60 minutes of physical activity each day.
To help keep track of these minutes during the holidays we've created an Active Summer Log, to allow children and parents to record how they are keeping active, and how it makes them feel.
Active Outdoors
Trails and events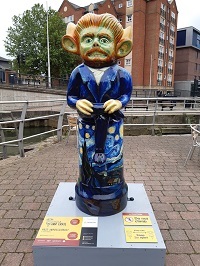 Get Active with The Lincoln Imps Trail
The latest sculpture trail from Lincoln Big, celebrates the Lincoln IMP. Children will love finding the 30 colourful sculptures of the cheeky chap, and ticking them all off as they find them. The IMPS are spread out around Lincoln (and one in Skegness), so you can all get your steps in without the kids getting bored as they can be on a normal walk!
Visit the website to find out more download a map, or put the app on your smart phone.
Visit website
NK Walking Festival
Running from 17 July – 1 August, North Kesteven Walking Festival has some family friendly walks for you to enjoy, including a 'pocket monster hunt' at Millennium Green in North Hykeham on 27 July!
Visit website

Events and Activities at Hartsholme Park (Lincoln)
From den building to orienteering, Hartholme park have got lots of activities to keep children active and enjoying the outdoors this summer holidays. Costs are from £3.50 per child, and booking is essential.
Visit website
South Holland outdoor festival
A series of events and activities taking place across South Holland this August, including sports, arts, music and other entertainment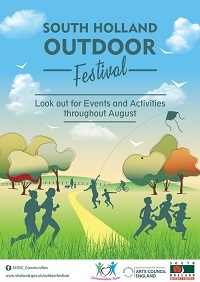 Keep an eye on South Holland District Council Communities Team Facebook page for details.
South Holland Summer holiday activities
You can find more summer holiday events and activities happening in South Holland this summer on the district Council's website.
Visit website
Boston Skate Park Jam
Sun 15 August
A special event celebrating the launch of a new skate park in Boston.
Find out more
Family Cycling
Cycling is a great way to enjoy active time together as a family. Visit the links below to find some top tips and family friendly routes.
Let's Ride Summer of Cycling
Find traffic free routes, local clubs, and log your miles this summer for a chance to win prizes!
https://www.letsridelocal.co.uk/
Top Tips from British Cycling
Take a look at these tips including advice on road safety when cycling as a family.
Visit website
Learn to Ride bike
If your child needs help with learning to ride a bike Cycling UK have some great advice for getting started.
Visit website
Holiday Sport and Activity Clubs
Holiday Activities and Food Programme
Taking place over the summer holidays, these holiday clubs are for primary and secondary age children who are eligible for benefit-related school meals. From arts and crafts, to sports and games, plus cooking
and growing food. Contact HAF@lincolnshire.gov.uk to find out where the nearest holiday club is taking place in your area.
Lincoln City Foundation Holiday Club
Perfect for football mad 4 -11 year olds, the summer holiday club also included multisport Monday where you child can try a variety of sports!
Find out more
The Outdoors Project Lincoln
The Outdoors Project offer action-packed, outdoor clubs for all free-range children aged 5 (year 1) – 12 years old. Our holiday clubs take place in green spaces around Lincoln, in all weathers- come wind, rain or shine!
Find out more
Multi Sports Pro – Premier Education Holiday Camps
Activity camps for 5 – 11 year olds (limited places)
Running at:
Yarborough (Lincoln)
Market Rasen Leisure Centre
Newark Magnus Academy
West Lindsey Leisure Centre (Gainsborough)
Nettleham Junior School.
Visit website
Hub Summer Dance School (Sleaford)
Taking place on the 4, 5 and 6 August this Summer School will run over three days, led by the Hub dance team and several exciting professional dance artists. Each day will be for a different age group, with the first day for young people with learning disabilities, autism and/or physical disabilities aged between 10-24yrs.
Find out more
Grantham Tennis Club Holiday Camps
If your kids have been inspired by Wimbledon, these holiday tennis camps are a great chance to improve their skills or just have a go.
Find out more
Contact your local leisure centre for details of other holiday activity camps near you.
Enjoy an Active Family Day Out
Try a day out with a difference, and challenge your kids and yourself with an adrenaline fuelled or action-packed adventure, that will guarantee a good night sleep for the younger members of the family! Perfect if you're enjoying a 'staycation this summer' Here are some of our suggestions:
Lincoln Water Park
Fun for all the family with an Aqua Park and mini ship rides for younger children.
Visit website
Tattershall Lakes Water Park
A great range of water related activities for all the family – including Aqua Park, wakeboarding, Kayaking and Paddleboarding.
Visit website
Altitude 44 – High Wire Adventure (Skegness)
Have a go on the UK's highest Urban Adventure! The main course if for ages 6 and over, but there is also a junior course suitable for ages 3 – 8.
Visit website

Wild Pines Park (Market Rasen)
Wild Pines Park offers one of the largest ropes courses in the UK, with challenging and exciting activities for all ages. Situated in the beautiful woodland of Linwood Warren, Wild Pines Park near Market Rasen.
Visit website
Go Ape Normandy Hall (Scunthorpe)
A Treetop Challenge and Treetop Adventure course offer something a little different, with the stately backdrop of Normandy Hall.
Visit website
Belton House (Grantham)
This summer Belton House hosting a variety of sports activities so that the whole family can get active whilst enjoying inspiring views, bucket loads of fresh air and wildlife at every turn. Some activities are free, but entry costs apply.
Visit website
Jump – Trampoline and inflatable park – Lincoln
Perfect for the kids to bounce off any extra energy, particularly if the weather isn't great.
Visit website
Axed Lincoln
For older children (10+) and teenagers, try something different and have a go at indoor axe throwing!
Visit website
Active at home – digital resources
Keep the kids entertained at home, with ideas and activities from these digital resources.
10-minute shake up packs.
This summer, Public Health England has once again teamed up with Disney to launch a major campaign to get kids active throughout the holidays by playing 10 Minute Shake Up games. The campaign seeks to inspire kids to get active by using some of their favourite characters from Disney Frozen, Disney and Pixar Toy Story and, for the first time ever, Marvel.
Download the pack
Travel to Toyko
To celebrate the rescheduled Tokyo 2020 Olympic and Paralympic Games, schools and families are invited to get active with the virtual Travel to Tokyo challenge, Team GB and Paralympics GB's free programme for children aged 5 to 11 and their families.
Visit website
Your School Games Active Recovery Hub
A resource to support schools to help children and young people to boost their health and wellbeing by promoting being active. Search a wide range of activities provided by physical activity and sports organisations. Just select the active at home category for activities that are suitable to do at home.
Visit website


The power of an active school

Dr William Bird MBE, the founder of Intelligent Health, has been a keynote speaker at multiple Active Lincolnshire events. In 2019 he spoke at the Lincolnshire PE, school sport and physical activity conference focusing on research that shows how physical activity improves children's concentration and behaviour, promoting life long good health that starts at childhood, creating a better, more sociable environment.

Below he narrates a short clip about the power of an active school which explains the role schools can play in improving the activity levels of their students throughout the day and not just in PE lessons.


Active School Planner
Another useful resource is the active school planner, which is a tool that primary schools can use to track and improve the physical activity levels of their pupils.
Insight
"Children in Lincolnshire are slightly more active than the national averages."
The UK's Chief Medical Officers (CMOs) recommend that all young people aged 5-18 do at least an hour of energetic activity every day. This can be made up in a variety of ways, including how they travel to and from school, PE lessons, active curriculum subjects and play or recreational activities.
But how many children in Lincolnshire are actually meeting these guidelines?
"Within the school day, there is a significant difference in the amount of physical activity achieved by children from low affluence families."
Thanks to the Active Lives Children & Young People survey – coordinated by Active Lincolnshire – we can see just how active young people across the county are. Not only that, but we can gauge their attitudes towards physical activity, helping us find new ways to engage young people in sport.
Turning insight into action
Working with our partners at Press Red, we transform the data from the Active Lives survey into actionable insights, helping us plan the provision of physical activity and direct funding to the areas that need it most. This data gives us the opportunity to compare Lincolnshire's activity levels with other areas, allowing us to see how active we are on a national scale.
"Teenage girls are more active now than prior to the pandemic."
These insights also give teachers and school staff the chance to learn more about the activity levels of their students, informing them on:
How students are feeling
What impact Covid has had on their activity levels
The difference between activity levels at school and at home
With this insight, schools can deliver a more targeted approach to physical education, planning activities and sessions that meet the needs of their students.
"Children that need extra help have better activity levels than those who do not."
You can view the insight from the 2019/2020 Children & Young People survey here.
For more details about the survey results – including what they mean for Lincolnshire –check out this webinar with Active Lincolnshire and Press Red.

Schools Support Webinars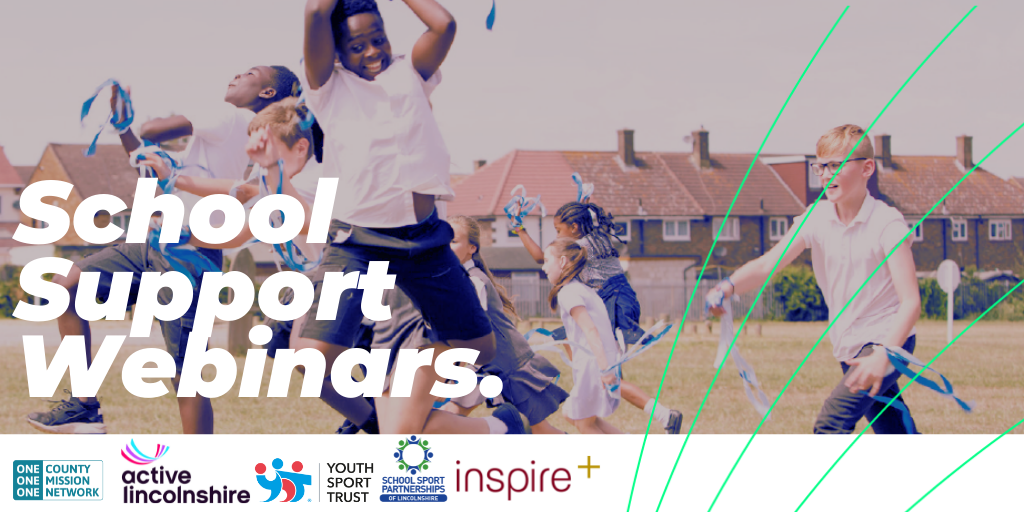 Recordings of webinars, presentation slides and accompanying resources are available below.
PE, School Sport and Physical Activity Webinar
Hosted by the One Network- June 17 2021
Watch a recording of the webinar below:
The series of webinars below took place between Monday 19 – Thursday 22 October 2020.
AfPE – Safe Practice in Physical Education, School Sport and Physical Activity
Delivered by Jan Hickman
Important health and safety issues pertaining to the teaching and learning of physical education. Information on controlling the transmission of coronavirus in PE lessons and providing an exemplar Covid-19 risk assessment.
Related Resources
Watch a recording of the webinar below:
Youth Sport Trust – The Well Schools initiative
Delivered by Rebecca D'Arcy
Using PE and Physical Activity for Whole School Wellbeing – The Well Schools initiative. Why is Well Schools is needed, what it is trying to achieve and how it can be supported through PE and sport.
Watch a recording of the webinar below:
Lincolnshire County Council – Quality Assurance Reflections on School Improvement
Delivered by Matt Spoors, Locality Lead Education, Advisor LCC
Watch a recording of the webinar below:
Youth Sport Trust – School Governors
Delivered by Rebecca D'Arcy
For school Governors, this workshop aims to give primary Governors information and advice about how to maximise the impact of the government primary investment in PE and school sport. It will also expand on accountability measures and pose key questions for Governors to consider.
Watch A Recording of the Webinar (on Youth Sport Trust Vimeo)
Swim England – How schools swimming lessons work in a covid – 19 environment
Delivered by Alex Barrett and Lauren Page, Swim England
Updates from the sector guidance for school swimming and what a school swimming lesson will look like. Achieving the National curriculum outcomes through The Swim England School Swimming Charter, top up lessons and and NCTP.
Watch a recording of the webinar below:
Club and activity finder
One key barrier to becoming more active is a lack of information about what physical activity opportunities there are in the local area.
To help tackle this challenge, our Let's Move Lincolnshire website features a open data enabled Club & Activity Finder, giving users up-to-date information about nearby physical activity sessions, facilities and events.
Visit our Club & Activity finder to find sports and activities in Lincolnshire.
Bishop Grosseteste University challenges
In 2021 Active Lincolnshire worked with students from Bishop Grosseteste University to develop challenges for children and families to keep active.
All challenges can be adapted and if any equipment is needed they have also provided examples of alternative household objects that can be used instead.
The main aim is to have fun!