Funded Projects
Lincolnshire Tennis Awarded Together Fund Grant to Support Wheelchair Tennis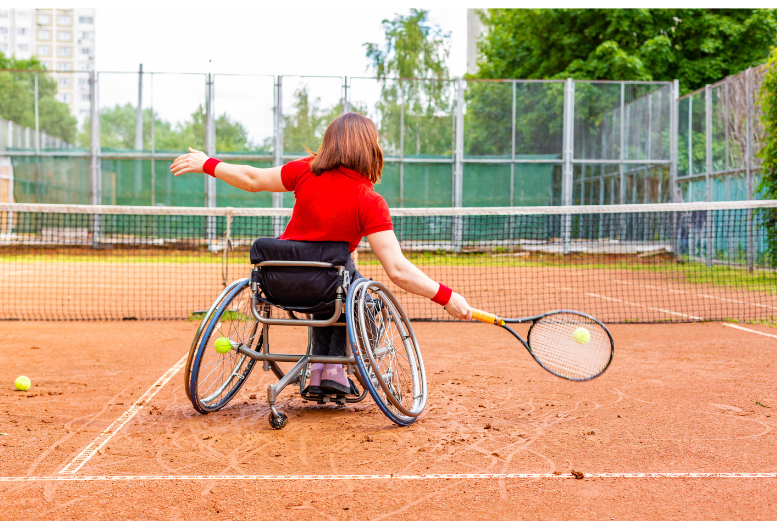 Lincolnshire Tennis (part of the LTA) have been awarded a £4930 grant from Sport England's Together Fund. The funding will support their 'Tennis for All' project, enabling the development of wheelchair tennis opportunities in the county through the purchase of tennis wheelchairs.

Lincolnshire Tennis have been supporting tennis clubs in the county for 102 years. The organisation are working with all their clubs to encourage them to offer opportunities to play to all sections of the local community, including those with a physical disability who could benefit from playing wheelchair tennis. Responding to demand from people with physical disabilities who wish to take part in tennis, they have managed to raise funds and purchase a chair for Sleaford who now have four but desperately need more.
This funding will allow the purchase of further tennis wheelchairs, enabling those reliant on a wheelchair for mobility or those for whom mobility is an issue to play tennis. The grant will support Sleaford Tennis club that currently has an all-inclusive group running which is supported by Lincolnshire Tennis. It will also enable the start up of a new group in Louth, where there is an established wheelchair basketball club who wish to develop a wheelchair tennis programme. The chairs will be owned by Lincolnshire Tennis and managed and maintained by one of their disability team members, with the potential to use the chairs in other areas of Lincolnshire to promote wheelchair tennis.
Active Lincolnshire is distributing the Together Fund in Lincolnshire on behalf of Sport England. The fund exists to help to reduce the negative impact of coronavirus and support community groups and clubs working with our target audiences - whose activity levels have been most affected by the Covid-19 pandemic - to grow and enable more people to be more active.
Find out more about the Together Fund and other successful programmes here.