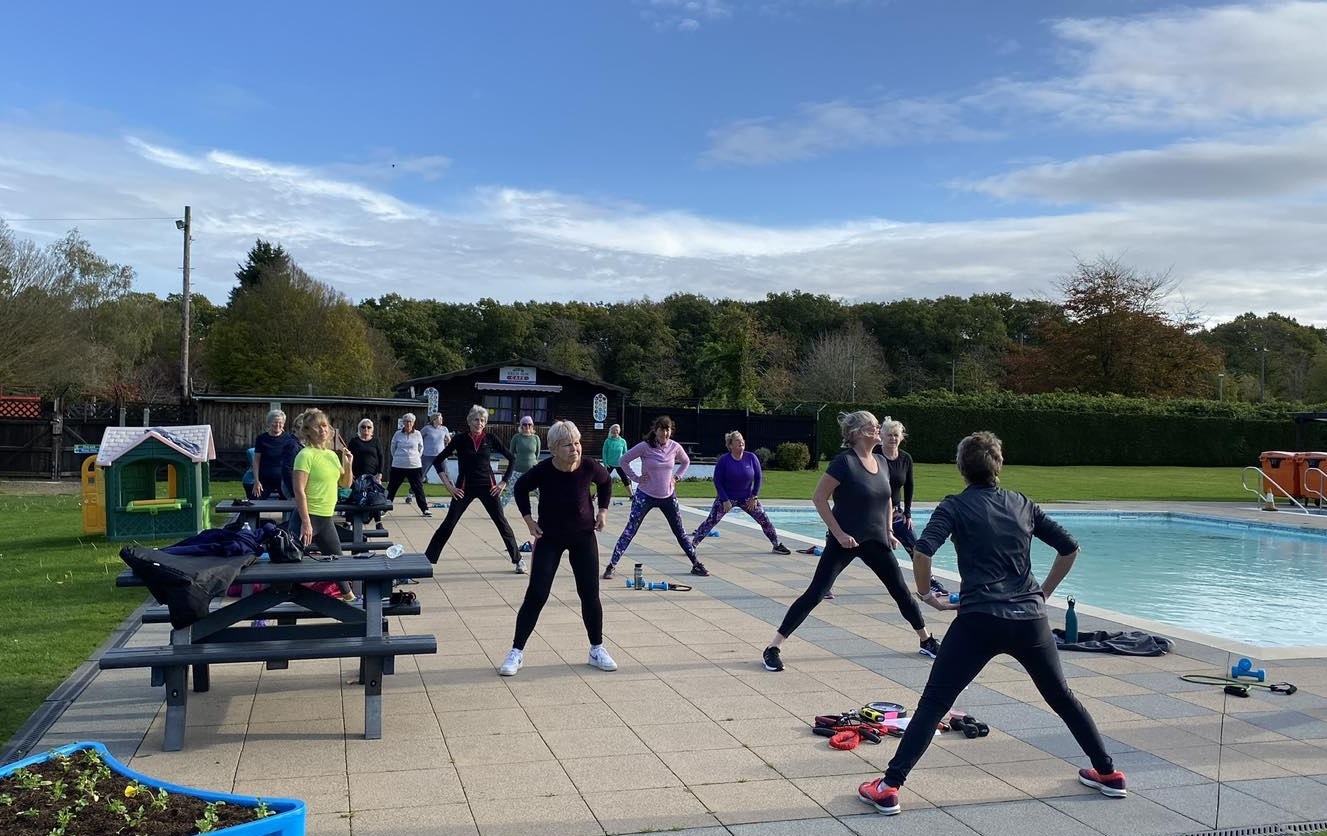 Jubilee Park Woodhall Spa Ltd has been awarded a grant of £4698 from Sport England's Together Fund. The funding will allow Jubilee Park to provide subsidised fitness sessions for people with a Long Term Health Condition (LTHC). The project will create a pathway for people taking part in the free exercise on prescription programme to continue to participate in physical activity following the end of the 12 week programme and enjoy the benefits being active brings.
Jubilee Park Woodhall Spa Ltd is a community-led charity, operating in Woodhall Spa, Lincolnshire. The Park acts as a hub for leisure and recreation for the local community and hosts a variety of events including the annual Woodhall Spa 1940s festival, a triathlon, a 10km run, music events and children's activities. Jubilee Park's facilities include an iconic heated 33m lido plus children's pool in a lawned setting, and a fitness suite (opened in 2020).
There has been an uptake in GP referrals and through One You Lincolnshire's referral scheme for exercise on prescription. However, once the free 12 week programme finishes there is a big drop off as people have to start to pay for fitness classes or activities. To encourage people with Long Term Health Conditions to keep up with exercise following the end of the exercise on prescription sessions, Jubilee Park will provide subsidised membership, which includes fitness classes. The aim is that once people have participated in fitness sessions for six months, they will have had chance to form a habit for being physically active, and continue to make exercise part of their lives.
The funding will ensure Jubilee park can support 50 people with a LTHC using their outdoor space and with the local bowls club as back up when the weather changes.


Jubilee Park commented:
"Fitness classes bring people together and Jubilee Park's data, feedback and experience shows that by increasing the number and variety of classes we provide the more members of the community get engaged, improving their mental and physical wellbeing - far more so than just going to a gym session and working out alone."
Funding will enable Jubilee Park to start an expanded accessibility campaign, as well as help to pay for the hire of an indoor space for late evening and bad weather sessions. It will also facilitate the purchase of equipment to support new and existing classes and different abilities, allowing users with LTHC to have appropriate equipment available to them. The cost of instructors to lead classes in a safe and controlled manner and additional training will also be funded.

Find out more about Jubilee Park on their website.
Active Lincolnshire is distributing the Together Fund in Lincolnshire on behalf of Sport England. The fund exists to help to reduce the negative impact of coronavirus and support community groups and clubs working with our target audiences - whose activity levels have been most affected by the Covid-19 pandemic - to grow and enable more people to be more active.
Find out more about other projects in Lincolnshire benefiting from the Together Fund here.