Research & Insights: Children & young people
We collect and interpret research and insights about the activity levels of children and young people in Lincolnshire so we can create opportunities that meet the needs of young people across the county.
Take a look at the data and insight below to help you understand how active children and young people in the county are, and how you can increase physical activity provision for those that need it most.
Active Lives Survey - Children & Young People
Active Lives Children and Young People survey, is a national survey commissioned by Sport England that provides a world leading approach to gathering data on how children engage with sport and physical activity.
Download the latest survey report below:
Active Lives Children & Young People Survey Academic Year 2021/22 Report
Read a summary of the report here.
For more information about Active Lives Children & Young People's survey in Lincolnshire and how your school can get involved by visiting our What We Do section.
Lincolnshire Insight
Working with our partners at Press Red, we transform the data from the Active Lives survey into actionable insights, helping us plan the provision of physical activity and direct funding to the areas that need it most. This data gives us the opportunity to compare Lincolnshire's activity levels with other areas, allowing us to see how active we are on a national scale.
Based on the results of the 2019/ 2020 Active Lives Children & Young People survey results, Press Red have created a Lincolnshire Insight pack. Using the Active Lives results along with other data sources they have also created an interactive mapping tool.

Children & Young People - Lincolnshire Insight Pack
Children & Young People Lincolnshire interactive mapping tool.
Active Lincolnshire facilitated an insight session delivered by Press Red on the activity levels of children and young people in Lincolnshire based on the results of the 2019/2020 Active Lives survey results. For more details about the survey results -including what they mean for Lincolnshire - take a look at the insight slides and watch a recording of the insight session below:
If you would like more information, or need support using the interactive mapping tool please contact: schools@activelincolnshire.com
Schools Active Movement is a voluntary organisation that support not-for-profit organisations working with schools across England to help children be happier, healthier and more active.
Impact of Lockdown Report
In April 2021, the Schools Active Movement (SAM) launched a national survey. Headteachers, PE coordinators and PE teachers across England were asked what they had noticed about their pupils since the easing of the third national lockdown in March when all children had been able to return to school.
National Results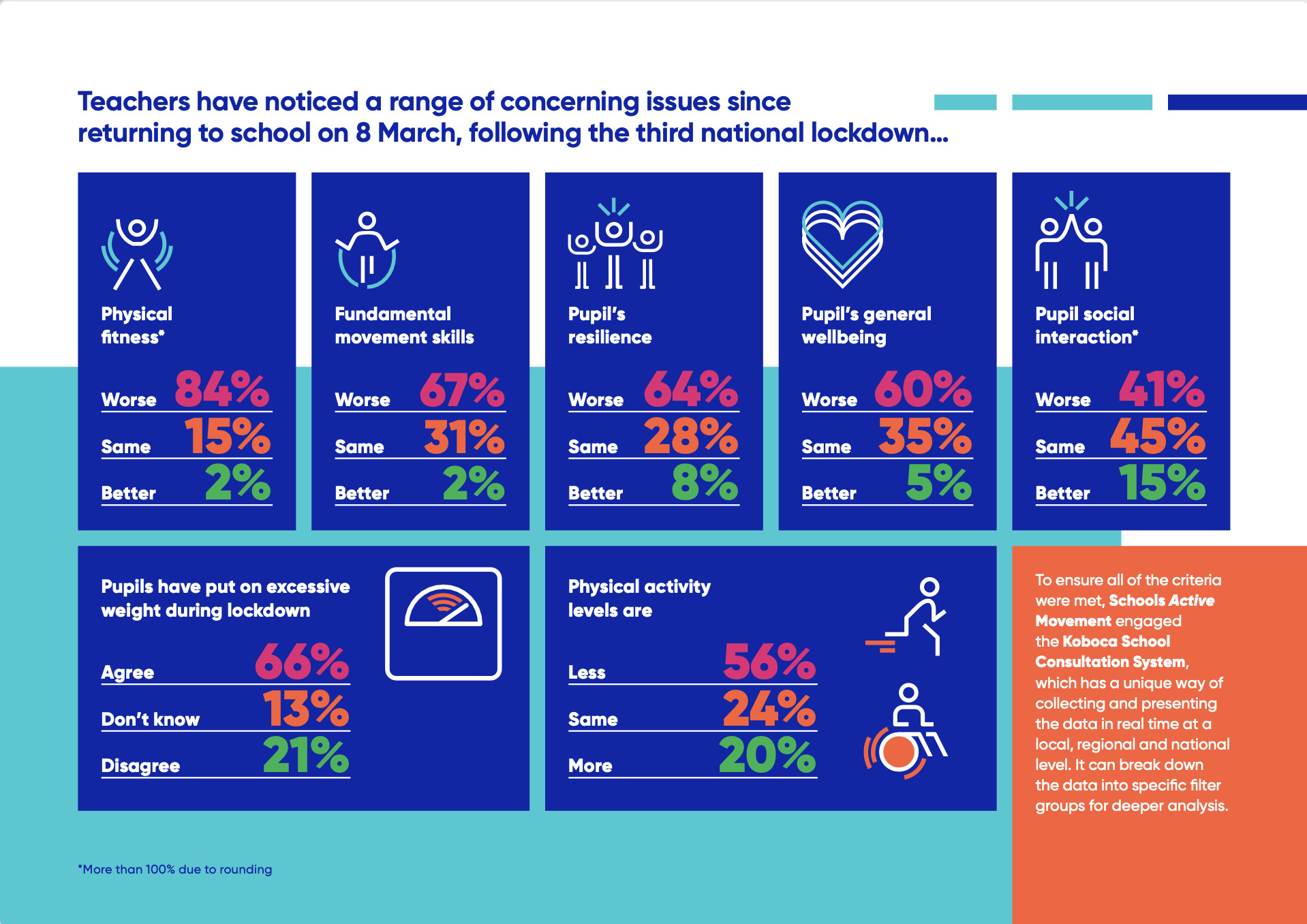 Lincolnshire Results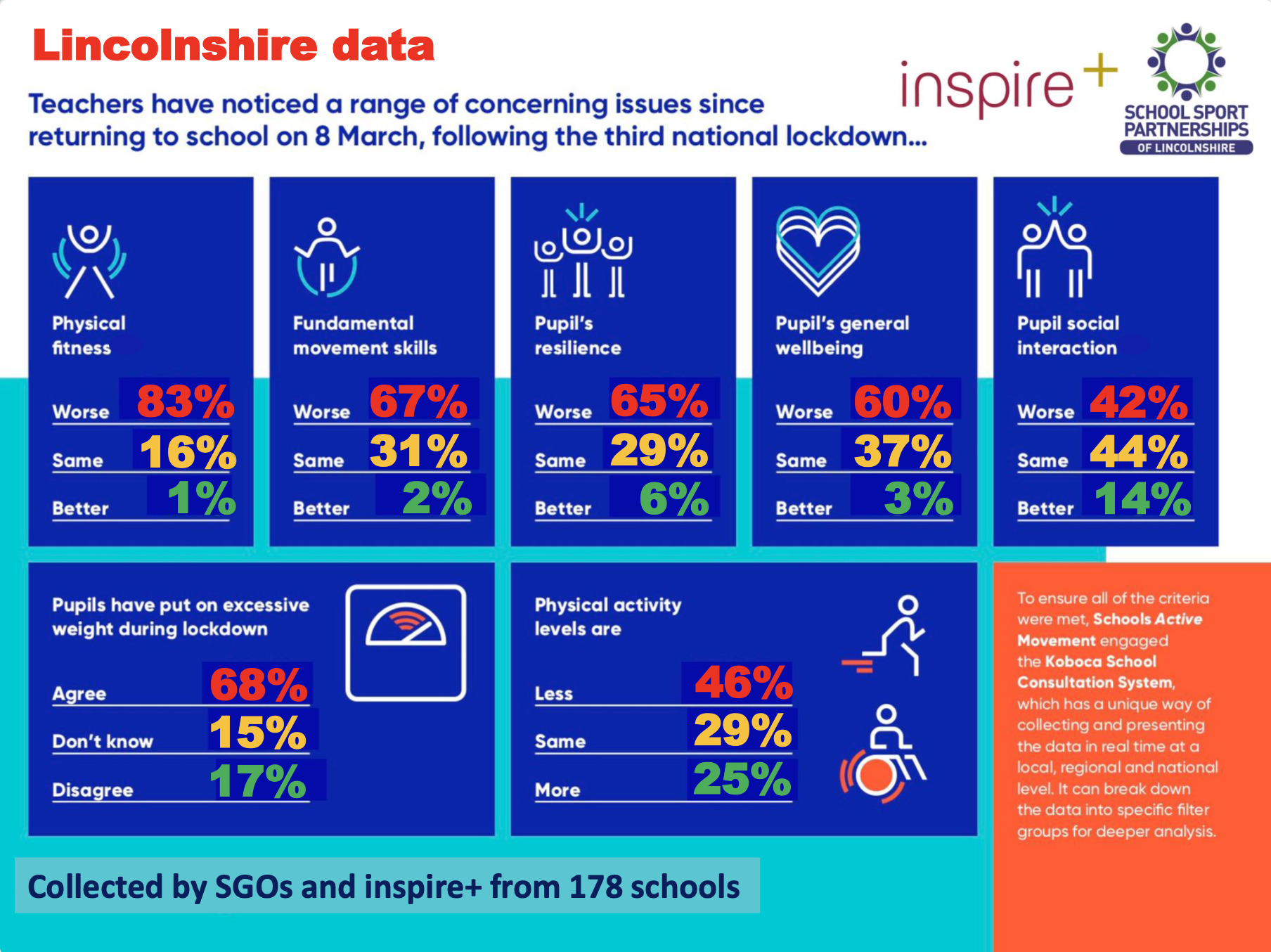 This information was collected by the School Sport Partnerships (SSPs) of Lincolnshire and collated by Inspire+, an independent sports charity located in Grantham, Lincolnshire. Their vision is to ensure young people are "Healthy, Happy and Active" and they achieve this by increasing young people's physical activity and wellbeing through both educational and community settings.
Girls Active Pre-Intervention Questionnaire Report
Active Lincolnshire have been working with Youth Sport Trust to deliver the Girls Active programme to seven schools in Lincolnshire.
Youth Sport Trust Girls Active programme helps schools understand what motivates girls to take part, enabling teachers to work with girls through consultation and leadership to make the necessary changes to their PE, sport and physical activity provision to engage all girls in ways that appeal to them.
This report summarises responses to the Girls Active Pre-Intervention Questionnaire that female pupils completed in June 2022.
The report gives an overview of the girl's perceptions of PE and physical activity both in and out of school and barriers to participation.
Overall this study received 729 responses from female pupils in school years 7 to 13,
from 7 different schools.