On Your Feet Britain
Join 2 million office workers across Britain with a day of moving while you work.
Take part in On Your Feet Britain - the national activity awareness day when 2 million desk-based workers across Britain participate in a variety of dun and simple activities to #SitLess and #MoveMore at work.
Wiggle it. Waggle it.
Just don't sit on it.
Taking place this year on Thursday 28 April 2022, with a NEW LOOK and revamped materials, plus a day of exciting active events to get us all moving more.
On Your Feet Britain is a FREE and FUN way to reboot and energize your workplace habits. This year we're looking forward to seeing how every worker gets active for the #BigWiggle - where your desk may be.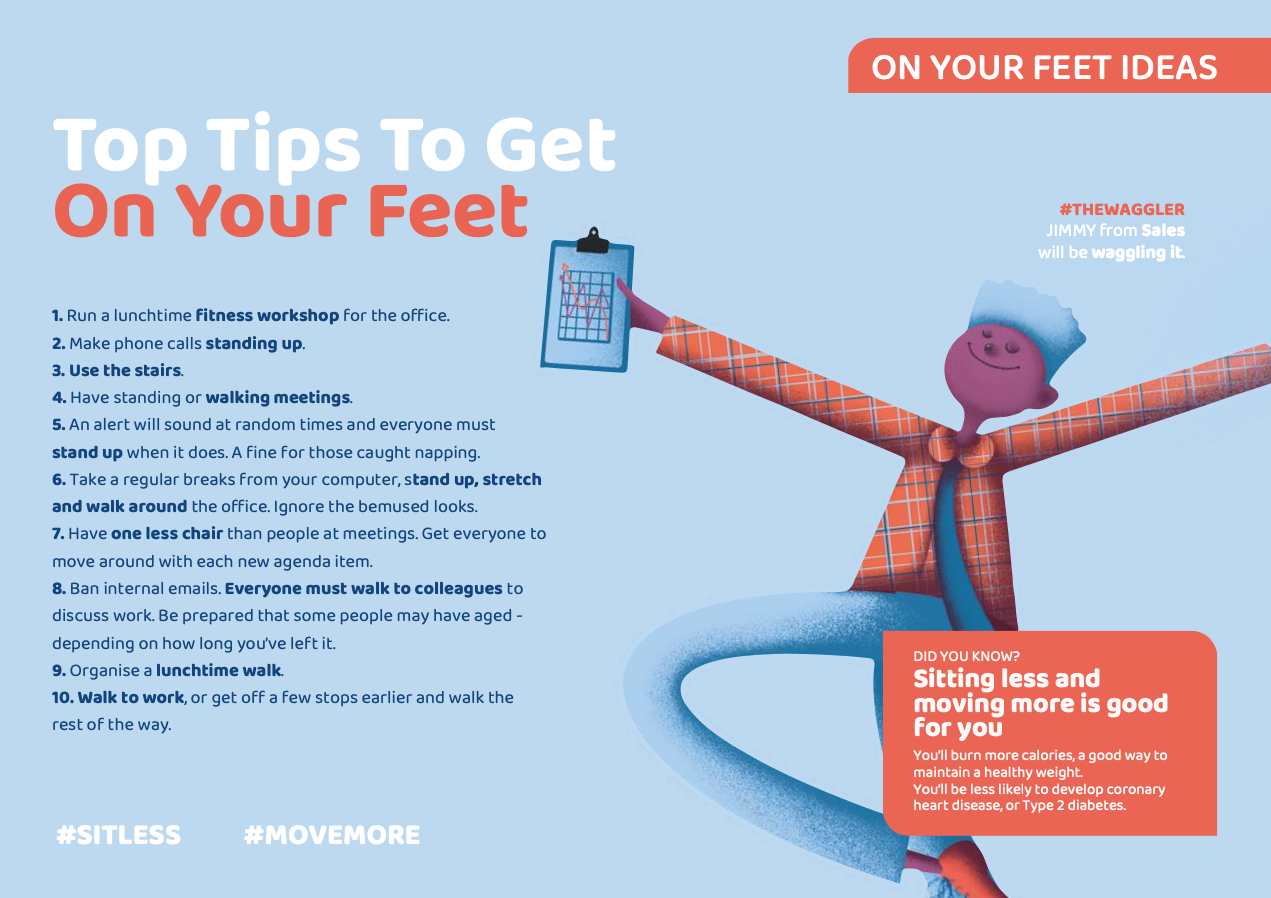 Did you know? British people sit for 8.9 hours each day (on average)
In recent years a variety of major international research has produced compelling evidence that sitting for more than 4 hours each day leads to:
Enzymes responsible for burning harmful blood fats shutting down
Reduced calorie burning (Metabolic rate)
Disrupted blood sugar levels
Increased insulin and blood pressure levels
Leg muscles switching off.
Challenge Yourself!
Check out the challenge page for fun and easy ideas for On Your Feet Britain activities. Why not organise or take part in a team challenge?
Join up with colleagues to compete for activity levels against other teams within your organisation. It's easier than you think, and here are some simple ideas to help you get started:
Stand during phone calls
Stand and take a break from your computer every 30 minutes
Use the stairs more
Arrange standing or walking meetings
East your lunch away from your desk
Walk to a colleague's desk instead of phoning or emailing them
Stand at the back of the room during presentations
More Challenge Ideas
Download Resources
Register to take part in the On Your Feet Britain campaign and download your resources to help create your own active workforce.
£500,000 Giveaway
In celebration of On Your Feet Britain, the official campaign sponsors Sit-Stand.Com is donating up to £500,000 of active office solutions to help you #MoveMore #SitLess every day.
Get Britain Standing
Get an introduction to Active Working on the Get Britain Standing website and contact them directly for a FREE introductory meeting.
Discover more campaigns
Discover more local and national campaigns to get involved in helping more people get active in Lincolnshire.
Sign up to our newsletter
Sign up to our newsletter to receive regular updates about the latest local and national campaigns and get involved.