News
We're partnering with Street Tag to encourage active exploration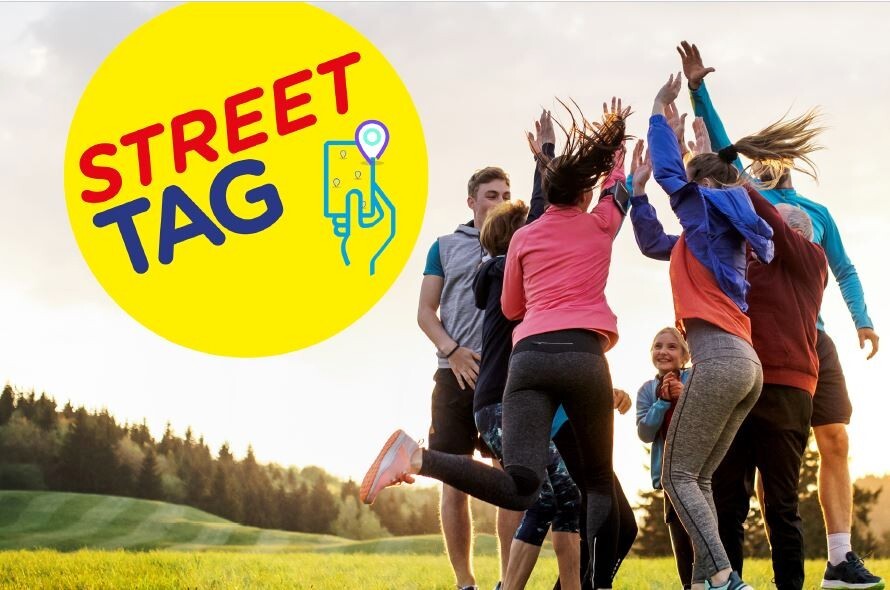 We are happy to announce that we are bringing Street Tag to Lincolnshire, to help people easily access physical activity and develop an active lifestyle. In particular, the partnership will look at how to overcome the barriers that stop people from getting active, such as poor transport, safety, cost, and confidence.
Street Tag is a free app-based physical activity initiative designed to incentivise families to be more active by turning their surroundings into a virtual challenge.
Find out more about what Street Tag offers from Greg Brown, Active Lincolnshire Children & Young People Lead:
As part of the pilot, Active Lincolnshire and Street Tag will be working with primary and secondary schools in the county to get children moving and exploring during the day, and with their families and friends as they travel to and from school.

The app will be used to engage and incentivise residents and school communities to walk and cycle around their local area. Participants can earn points by finding virtual tags, drop tags for other people to collect and get bonuses by taking part in challenges, getting their step count up or finding hidden QR codes and augmented animated characters.
Schools on the School's Leaderboard will compete against others in their district while residents in smaller groups of 6 or fewer will compete against other residents on Community Leaderboards. Each district will have its own community leaderboard as well as separate versions for primary and secondary schools; all with prizes on offer twice a year for points gained in prize periods.
Working with schools and communities in the targeted areas, the partnership will aim to increase the wellbeing of less physically active children and families by encouraging them to spend time outdoors taking part in physical activities, building community engagement, and maintaining positive mental health.
Seun Oshinaike, Founder of Street Tag said:
"We are excited to be forging partnerships that help families and communities get physically active in a fun, sustainable, and accessible way."
The outcome of this intervention will include: a reduction in the number of local trips/journeys made by car; an increase in the number of trips and distances travelled by bike and foot among residents; encourage residents to make use of local leisure facilities and amenities, along with local businesses; and increase the levels of physical activity with the benefits of improved health, reduced levels of obesity, and increased social interaction within Lincolnshire.
Active Lincolnshire Chief Executive, Emma Tatlow said:
"We are delighted to be working with Street Tag to bring an innovative and interactive digital physical activity game to communities across the county. Not only will Street Tag support and incentivise children to achieve their 60 daily active minutes but it also helps develop essential social, physical and mental skills. By opening the same platform to everyone in the community, the game and its challenges can continue outside the school day and can be truly intergenerational with all family members getting involved, along with other groups as everyone rediscovers their local area."
As part of a staggered launch, Street Tag will be initially launched in the districts of East Lindsey, West Lindsey, Boston and the City of Lincoln, before being rolled out to the rest of the county in 2024. Each of these districts has been carefully selected by analysing local insight, and looking at factors including school size, number of pupils on free school meals and activity levels.
A collaborative approach is crucial for the success of Street Tag in Lincolnshire; encompassing Active Lincolnshire and Street Tag alongside primary and secondary schools, local community groups and activity providers. The initiative will link residents with local green spaces, cultural and historical landmarks, facilities to be active at and local business through prizes.
Andy Harris, Year 4 Teacher at Dunholme St Chad's Church of England Primary School, West Lindsey commented

We are hoping to use Street Tag to get families more active on their commutes to and from school and to give the children a link between digital gaming, being physically active outside and learning vital life skills like map reading.
For more information on Street Tag in Lincolnshire, visit LetsMoveLincolnshire.co.uk/StreetTag. To join the fun download the app on the Play Store, and App Store. Share your progress by searching for Street Tag on Twitter, Facebook, and Instagram.