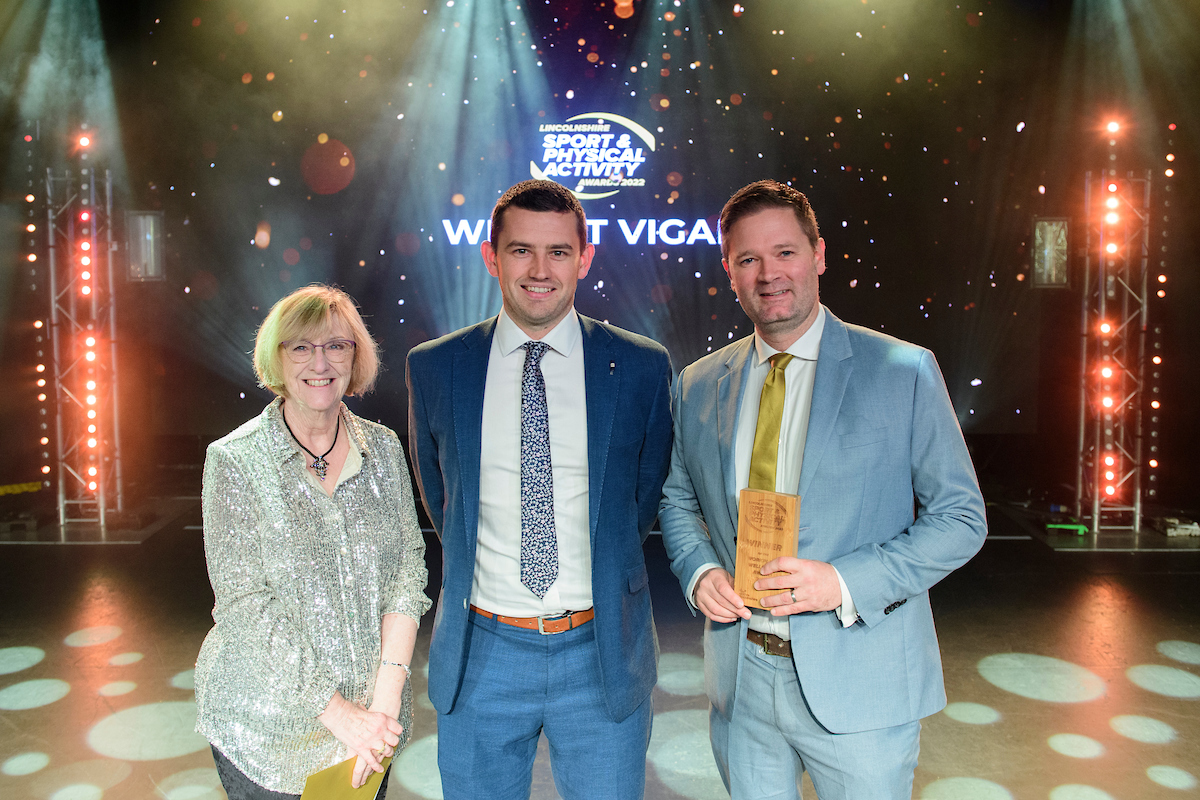 Wright Vigar won the Workplace Wellbeing Award at the Lincolnshire Sport & Physical Activity Awards 2022. The award champions Lincolnshire employers, from any sector, who have excelled in supporting the physical wellbeing of their staff through encouraging and facilitating active lifestyles and an active work environment; whether this be at home or in the place of work.

Wright Vigar were selected by the judges for the Workplace Wellbeing Award 2022, in recognition of the the way they have committed to staff wellbeing provision and proactively encourage and support an active lifestyle for their employees.

Wright Vigar, are Chartered Accountants based in Lincolnshire and Nottinghamshire; They embed wellbeing into their culture through their 5 ways of wellbeing:

Connect – They work together as a team and look to support each other.
Be Active – They encourage all their team to be active.
Take Notice – The team all take notice of each other and identify the signs if anyone is struggling
Learn – They all keep learning and continue to invest in relevant training.
Give – They give time to each other, our community and charitable activities.

The company have a designated wellbeing group that meets regularly to discuss their team's wellbeing and develop strategies to help encourage and facilitate active lifestyles for their team. Initiatives the group have implemented include: workplace walking challenges to raise money for charity; in-house sporting competitions, encouraging active networking; and entering teams into events such as C2C2C, equinox and the Nottingham Half Marathon.
The company also have various schemes in place to help encourage and make it easier for their team to take an active route to work or have an active lunch break. They provide the cycle-to-work scheme for staff, have designated showers that the team can use and a secure bike storage facility for all.

Wright Vigar have also signed up for the MIND Mental Health at Work Commitment. Prioritising workplace mental health has never been more important, and this is at the forefront of their minds.
Pete Harrison, Wright Vigar Managing Director commented:
Wellbeing is something that is absolutely central to everything that we do within the firm. We're delighted to have been recognised for this award promoting wellbeing and physical activity as it is really important.

John Richmond, HR & Training Manager added
We don't want to be the stereotypical accountants sitting behind a desk and never moving - we actively encourage our team to go our for walk at lunchtime and share their walks with everyone, so we all can do that extra bit. It's good for our physical health and our mental health too.
Runners up for the award were: Charity Active Nation who encourage staff to be physically active for 30mins a day on their shift, as well as arranging weekly well-being sessions as staff teams, and HWLincs who have used physical activity as a way of being able to bond more as a team. Their employees, trustees and volunteers were invited to share their steps and miles achieved through their daily walking, cycling, swimming and running.
Nominate Now for the Active Workplace Award 2023
Does your company or your employer create a work environment which encourages employees to be more active, more often? Why not nominate for the Active Workplace Award for the 2023 Awards? Find out more and nominate.