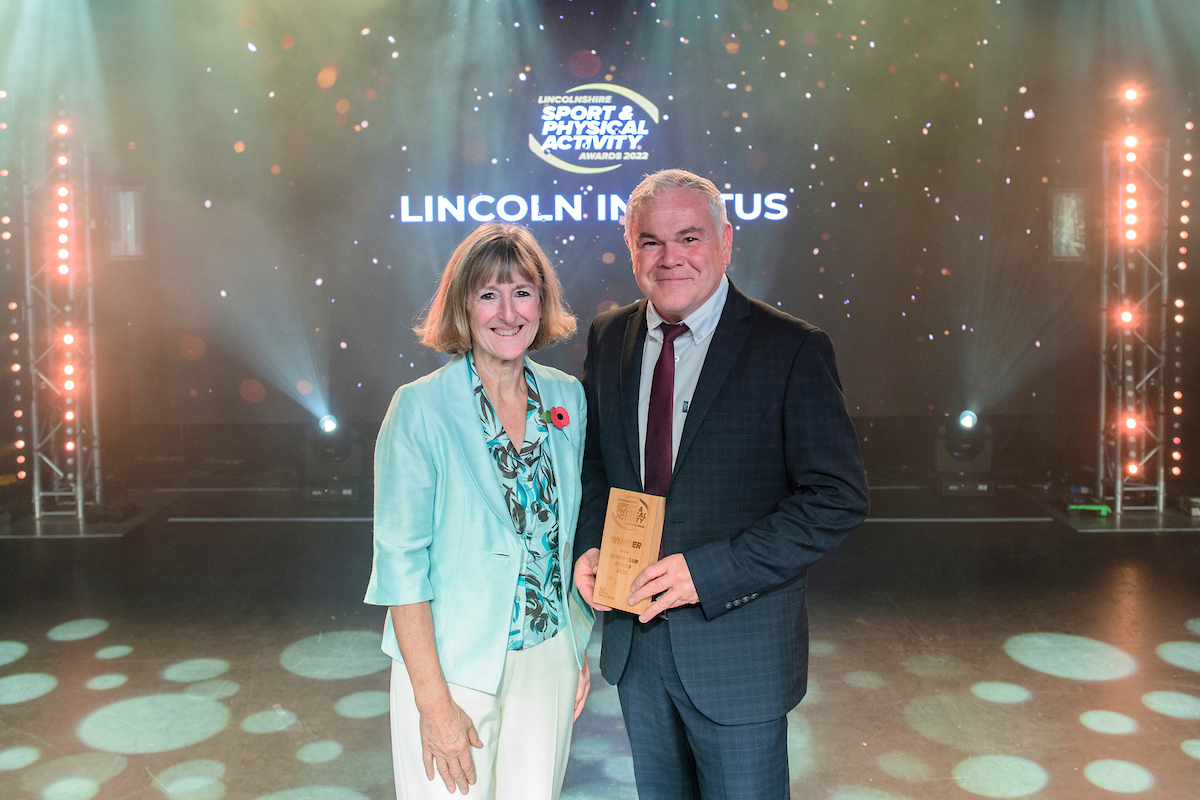 Lincoln Invictus Football Club won the Active Club award, sponsored by Let's Move Lincolnshire, at the Lincolnshire Sport & Physical Activity Awards 2022.
The award recognises sports and activity clubs that have actively engaged with their members through sessions, competitions and communications over the last year to make a positive difference to people. It celebrates clubs who have made a substantial contribution to their direct members, the wider local community and volunteers. The LPSAA Award's judging panel were impressed by Lincoln Invictus' inclusive ethos and the work they have put into growing the club.

Lincoln Invictus is an inclusive Football Club, based in Lincoln, providing opportunities for people to play Disability (PAN Disability and Deaf and Hearing Impaired) and Walking Football.
Formed in 2020, the club now has over 120 players who take part in one of the five disciplines of the game, and is a recognised Football Association 2 Star Accredited Club. The club is run by a small number of volunteers whose aim is to provide an opportunity for as many people as possible to take part in the game. The club's growth is testament to their belief that every player, no matter their ability, should have the opportunity to play football in a safe environment.
We spoke to Lincoln Christer. Chairman for Lincoln Invictus, to find out more about the club.

Can you tell us about how Lincoln Invictus came to be set up and what motivated you to embrace such an inclusive philosophy?
Prior to 2020 Disability and Walking Football was played under the banner of Ruston Sports FC however both sections sought autonomy following significant player growth.
PAN-Disability Football sessions were established at Ruston Sports in 2017 when we started with 6 players (5 of those still continue to play for us today). The club now has over 60 PAN Disability players, with teams at under 12's, under 16's and open aged. The term PAN is used to encompass players who have either a physical or mental disability including players with autism and/or ADHD. The format of PAN-Disability football may vary but typically will be small as either 5, 6 or 7-a-side. This format of the game provides opportunities for players whose disability prevents them from achieving their potential in mainstream or modified football.
The Walking Football Section was established in November 2018. It started with just 8 players who played 4-a-side games - again the format of the game is small-sided with games traditionally being 5,6 or 7-a-side. We offer both mixed Walking football and Ladies Only Walking football sessions.
The club has now grown to over 120 players. We currently have: an over 70's team playing in the midweek Lincolnshire League; an over 65's team playing in national competitions; two over 60's teams playing midweek in the Lincolnshire League Premiership and Championship Divisions; two over 50's teams playing weekends in the Lincolnshire League Premiership and Championship Divisions; and a Ladies only over 40's team playing Sundays in the Lincolnshire League.
The Deaf and Hearing Impaired Team was established in 2022 and has 19 registered players who take part in the Lincolnshire Ability Counts League along with the clubs PAN Disability Leagues.
Our club moto is 'I am the master of my fate' which was derived from our creation.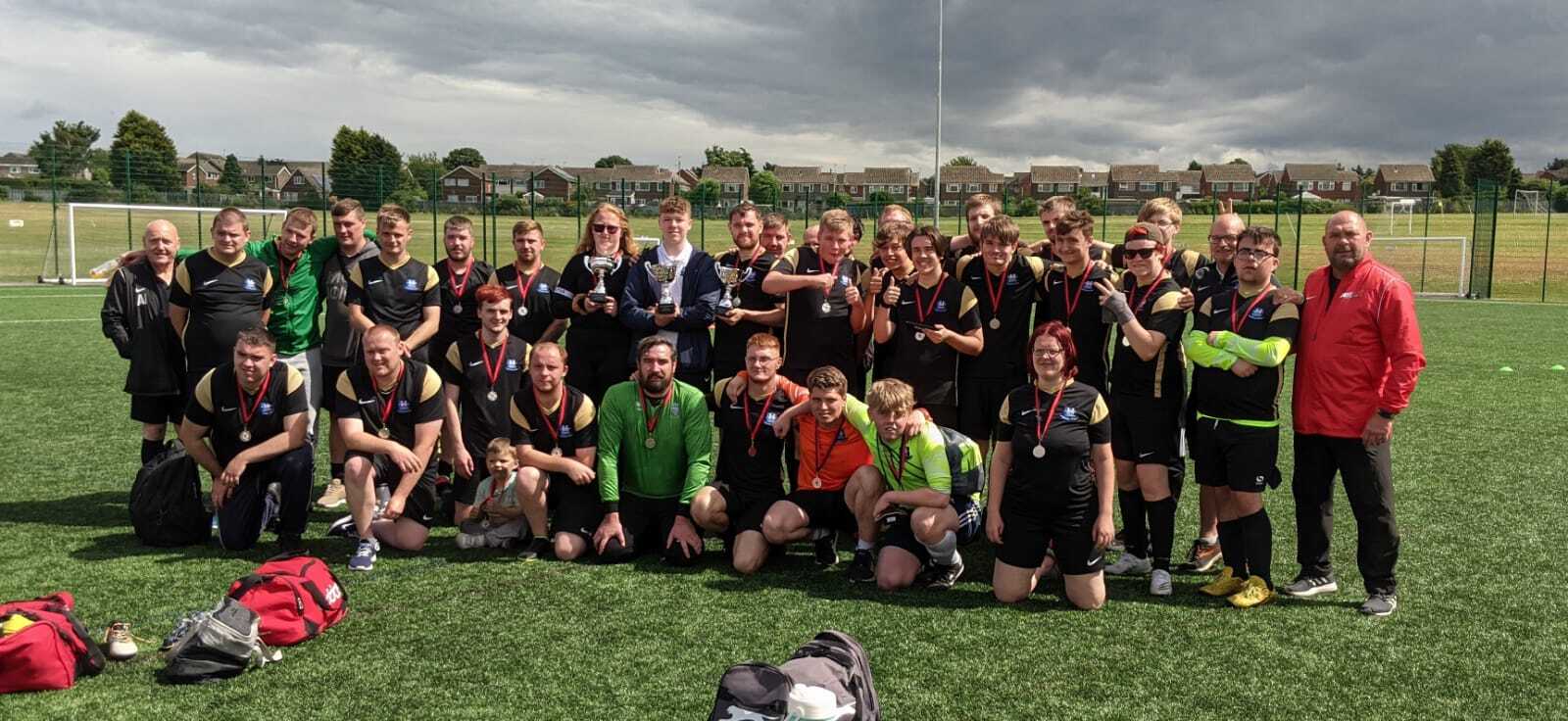 What achievements / successes are you most proud of?
In our second year as a club we were awarded the Lincolnshire FA 'Grassroots Club of the Year as well as the 'Active Club of the Year' award at the Lincolnshire Sport & Physical Activity Awards.
We are an England Football Accredited 2 Star Club with over 200 registered players across the two sections with our players age range 6yrs to 81yrs of age.
We are also immensely proud to be an inclusive club where all our members can be their true selves without fear of discrimination or judgement.
We are also immensely proud to be an inclusive club where all our members can be their true selves without fear of discrimination or judgement, and instead feel welcomed and valued. In 2023 the club was proud to take part in the Lincolnshire FA v Homophobia Tournament. The club is currently seeking to become a Lincolnshire FA LGBTQ+ Accredited Club.
What does winning the award mean to you?
For us it's about being recognised as the inclusive club we strive to be; for all the hard work and effort that our committee and volunteers put into supporting all our players both on and off the pitch.
Have you got any plans for 2023 that you'd like to share, and how can people get involved?
We have just raised £750.00 for The British Heart Foundation 'Go Red for Feb' campaign and the 20th May will see the club hold a Walking Football Family Festival where we aim to raise over £1500 on behalf of the British Heart Foundation.
For more information about our club and what we offer please visit our website https://lincolninvictus.co.uk
Find out more about Disability Football in Lincolnshire on the Lincolnshire FA website.