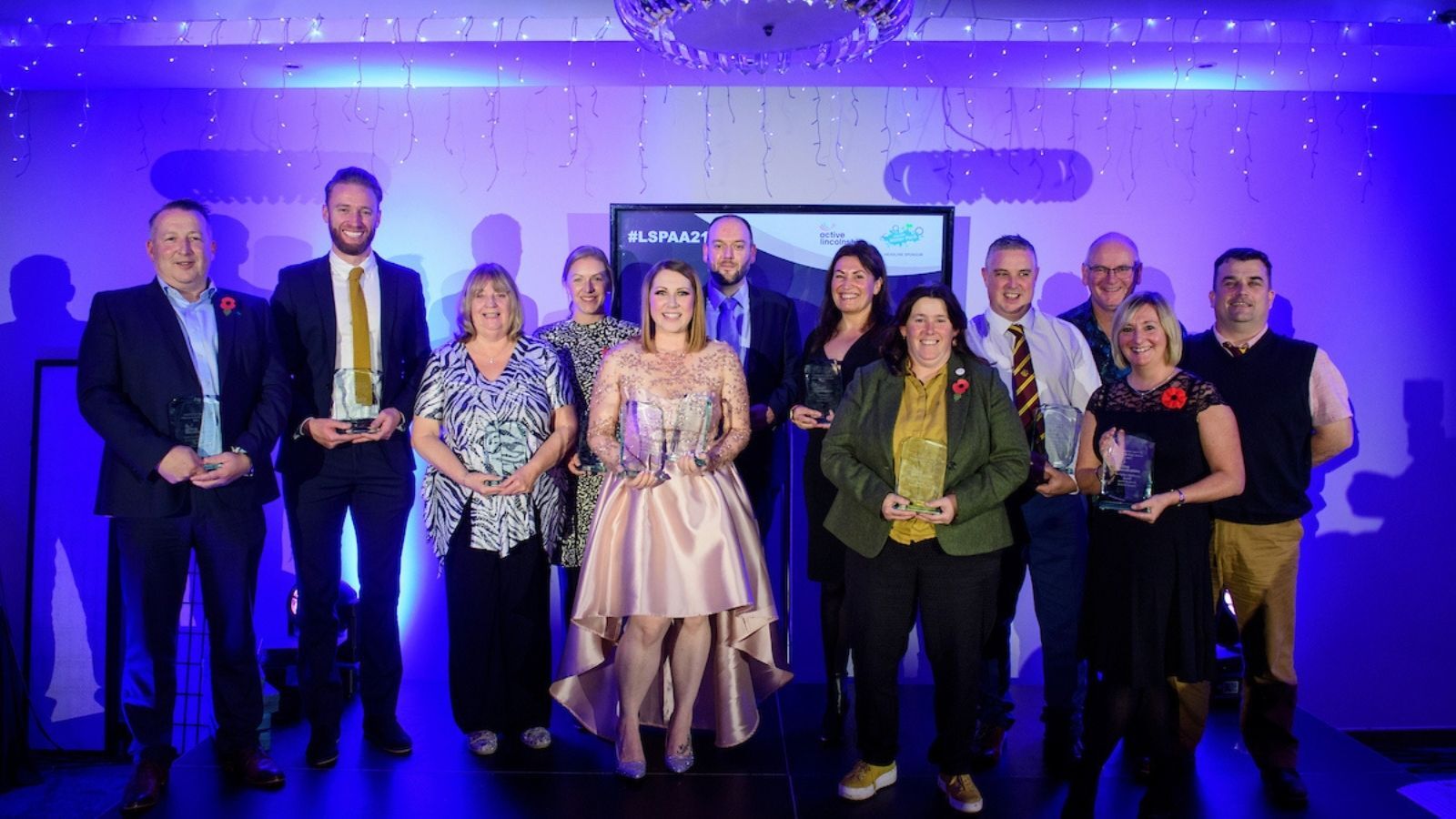 Sporting stars and community heroes recognised at the Lincolnshire Sport & Physical Activity Awards 2021. Here are our award winners.
Hosted by BBC Radio Lincolnshire presenters Rob Makepeace and Carla Greene, Lincolnshire's biggest celebration of sport and physical activity was held at the DoubleTree by Hilton on Thursday 11 November.
Organised by Active Lincolnshire and headline sponsored by Lincoln Water Park, the awards, now in their 17th year, recognise the positive impact physical activity has on people's lives, and celebrate those who actively contribute to the health and wellbeing of the Lincolnshire residents.
Suzi Nightingale, Managing Director, Lincoln Water Park said:
"For us, it is important to support local incentives that encourage people to be active. It's not necessarily about the best athletic ability, but for us is about enjoying what you do and striving to be your best. These awards celebrate commitment and achievement and include community involvement and the passion of all the supporting teams involved. It's a pleasure to be involved with supporting the incredible athletes, support teams and clubs in Lincolnshire."
To an audience of local businesses, friends and family, nine winners were recognised for their positive impact and contribution to sport and physical activity.
The penultimate award of the evening, Active Champion went to Gemma Warrington.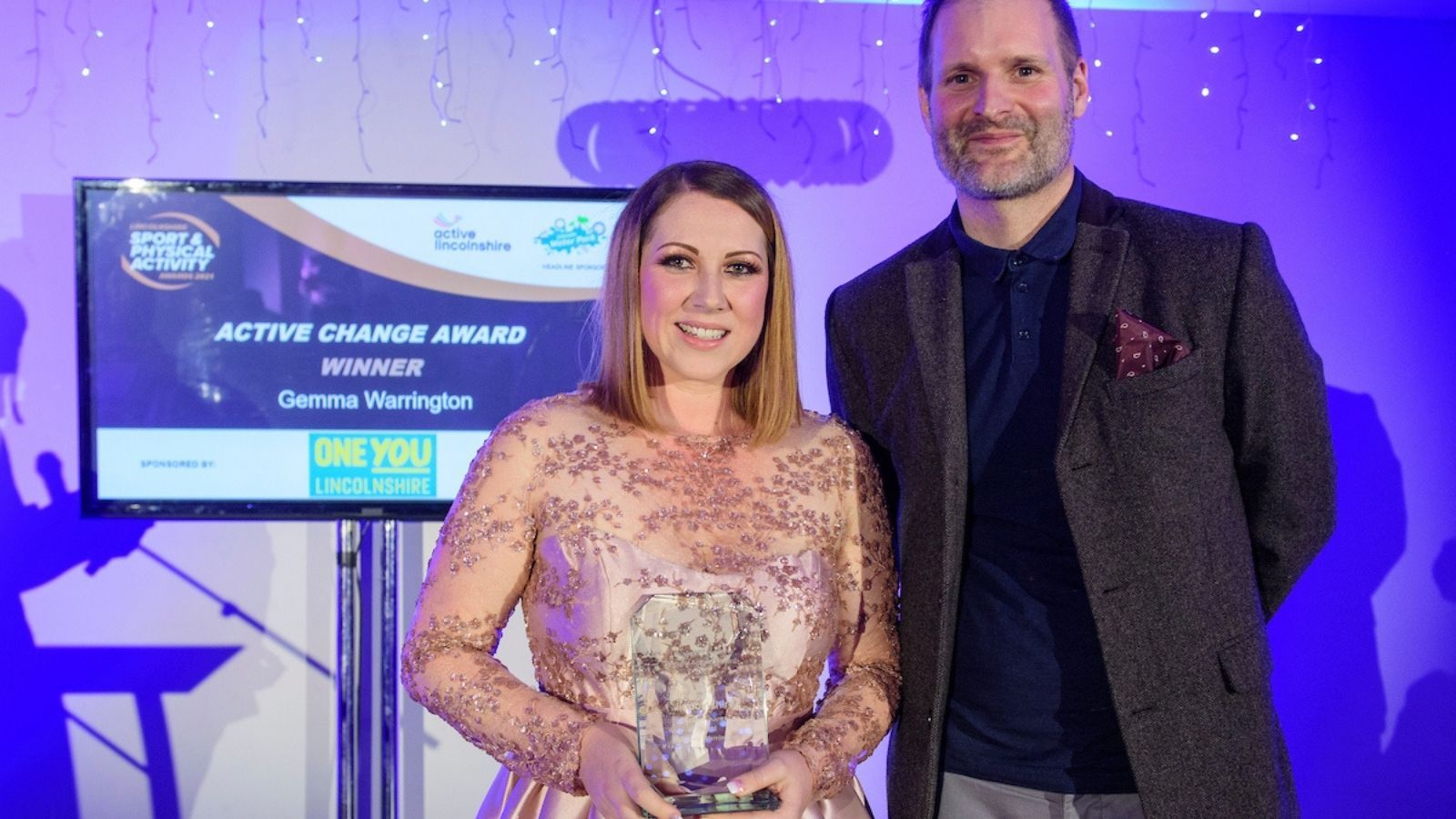 In October 2020, Gemma Warrington decided to make changes to her health and wellbeing as she was feeling "completely fed up, stressed, anxious, overwhelmed and insecure". Since October, she has lost an incredible 5st 5lbs and has transformed her life.
Not only has Gemma's fitness increased, she now has a love for being active.
A delighted Gemma said:
"When you get to rock bottom, and you know physically and mentally you have to do something you have to pull yourself out of that hole. No matter how much anyone tells you to do, unless you want to do it, you won't do it.
Nothing's going to change unless you make it change. I think it's about consistency and commitment to yourself; you don't have to do it for anyone else, no one is going to be there saying, "Did you do it?", "Why haven't you done it?" "When are you going to do it?" it has to be for you to check in with yourself and make that commitment to yourself every day."
Emma Tatlow, CEO Active Lincolnshire said:
"The awards event is always inspiring and uplifting, and this year was no different. We had over 200 nominations, and the judges had a tough time choosing the finalists and winners. Everyone here tonight has shown the positive impact sport and physical activity have on people's daily lives. I want to thank everyone who has participated in the awards, our sponsors, judges. And say a huge congratulations to the finalists and winners who are truly an inspiration and should be so proud of their achievements."
The 2021 LSPAA Award Winners
27 finalists, attended the evening, and were recognised in 9 categories each sponsored and presented on the evening by a local business. You can read the stories of each winner and their profiles here, along with information about each sponsor.
Here are the winners revealed for each award:
Active Community Award, sponsored by Lincoln Big
WINNER: Billingborough Community Gym

Contribution to Sport & Physical Activity, sponsored by Magna Vitae
JOINT WINNERS: Dan Hone, Active Arena & Roger Michie, Active Nation
Volunteer Commitment Awards, Everyone Active
WINNER: Fina Martinez-Parez, Coach at Grantham Water Polo Club
Workplace Wellbeing Award, sponsored by Active Nation
WINNER: North Kesteven District Council
Fundraising Award, sponsored by Chestnut Homes
WINNERS: Lindsay Nearns & Tony Lake, fundraising for St. Barnabas Lincolnshire Hospice
Active Change, sponsored by One You Lincolnshire
WINNER: Gemma Warrington
Active Club Award, sponsored by Bishop Grosseteste University
WINNER: Long Sutton Cricket Club
Active School Award, sponsored by Branston
WINNER: Skegness Grammar
Special Sporting Recognition, sponsored by Ambitions Personnel
SPECIAL RECOGNITION GOES TO:
Hollie Arnold
Thomas Talbot
Sophie Wells
Jo Talbot
Sam Atkin
Shona McCallum
Victoria Rumary
Olivia Clark
Read the story of each of the winners and see all of the finalists for the Lincolnshire Sport and Physical Activity Awards here.