Blogs
Moving for Mental Health - A blog for World Mental Health Day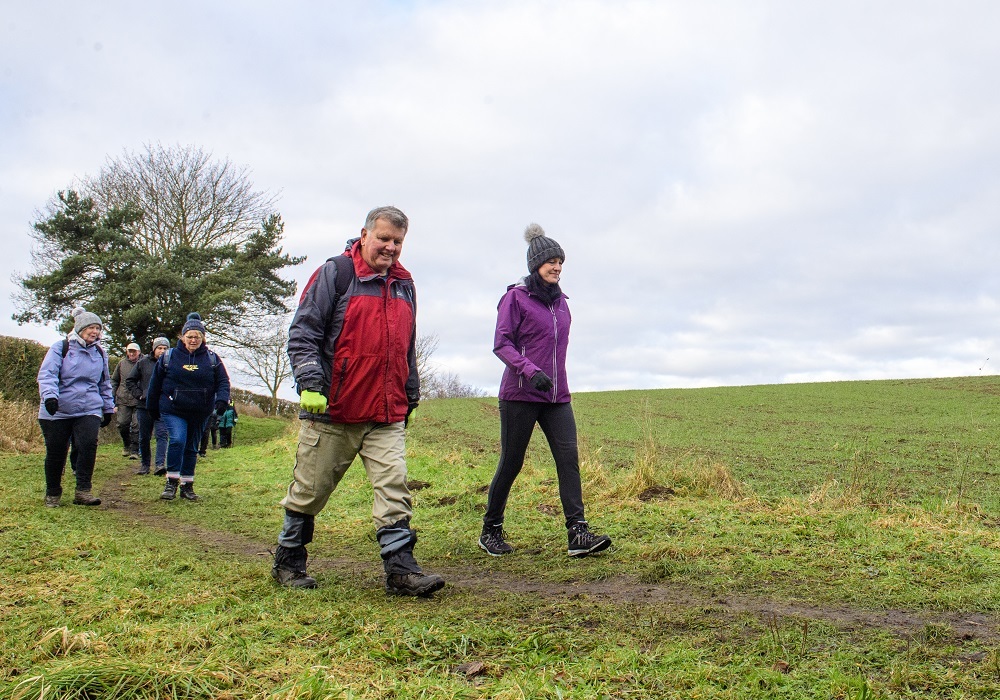 To mark World Mental Health day, Rachel Edwards, Health and Communities Manager at Active Lincolnshire has written a blog in conjunction with Shine Lincolnshire about the benefits of physical activity for mental health, highlighting some of the projects supporting mental wellbeing through sport and physical activity taking place across the county in this area.
World Mental Health Day 2023 on 10th October is an opportunity for people and communities to raise awareness and drive positive change for everyone's mental health.
It's also a chance to talk openly about mental health, how we need to look after it and highlight how important it is to get help if you are struggling. The theme for this year, set by the World Foundation for Mental Health, is 'Mental Health is a universal human right'. Activities are taking place across Lincolnshire to support this, including Tea & Talk sessions in workplaces across the county and wellbeing walk-and-talks, with talking about anything and building relationship both being positive for mental health.
The benefits of being active for mental wellbeing as well as physical health are increasingly being recognised and recent research by UK Active and Savanta reveals that improved mental health is now a stronger motivation for British people to exercise than staying in shape. Physical activity is not just about maintaining a healthy body, it also has a profound effect on our mental wellbeing. As well as reducing symptoms of anxiety, boosting self-esteem and enhancing cognitive function, regular activity can also improve mood and help you feel more relaxed. Group activities can also provide a sense of belonging and support, further improving wellbeing.

At Active Lincolnshire we've been pleased to distribute Together Fund Grants over the past year, to help a number of projects that focus on supporting people's mental wellbeing as well as their physical health. These included Magna Vitae's The GAME (Get Active Move Everyday) project which worked with children and young people in the East Lindsey experiencing poor mental health. The project provided a variety of non traditional physical activities, such as Zumba and Boxercise, alongside time for peer support and social interaction, and Curious Theatre's Dance Your Way to Happiness Project, which also focused on improving the mental health of young people, in this case through participation in dance.
It's great to see that so many of the other clubs, groups and projects we have supported through the Together Fund, have a focus on the wellbeing aspect of physical activity, whether that be through spending time outdoors, creating community connections and friendships, or simply offering the chance to relax and have fun in a supportive environment.
We spoke to local mental health charity, Shine Lincolnshire about the benefits of utilising sport, and physical activity to improve mental health and wellbeing, looking at some of the recent project they have funded that utilise physical activity.
Shine Lincolnshire's mission is to connect people and communities by promoting health, wellbeing, independence, and choice, enabling everyone to live a life of value. As an organisation they promote physical and mental wellbeing through the funding administration of wellbeing projects as well as through their own fundraising and awareness initiatives (just last month a Shine team climbed the Yorkshire 3 Peaks!).
Shine administers funding on behalf of Lincolnshire County Council, the Lincolnshire Integrated Care Board and Lincolnshire Partnership Foundation Trust (NHS). Projects aim to support and promote positive mental and physical wellbeing, holistically, within their community. Whilst a physical activity isn't always fundamental to a project, physically arriving at a destination, taking part in some sort of movement from woodwork to singing to theatre, can be the first step towards a connected, active lifestyle. Joining such activities can lead to new connections and signpost to a project or organisation that offers specific exercise sessions too.
Some current projects funded through the Mental Health and Wellbeing Community Investment Fund (MHWCIF) and the Suicide Prevention Fund (SPF) that have a key element of physical activity include:
NWCH Counselling's weekly 'walk and talk' session in nature. Led by a qualified counsellor who is also a qualified herbalist, people meet at a variety of locations in and around Lincoln to talk as much or as little as they like whilst benefiting from nature and exercise. Shorter walks are available for those less physically able too.
In recognition of the fantastic impact they are having on mental health, the programme has been recognised as a finalists in the Impact on Health Award at the Lincolnshire Sport & Physical activity awards. Find out more here.
Boston United Community Foundation's Tackle It! is a low-level mental health programme designed to support men's mental wellbeing. It delivers a weekly 2-hour session at the Jakemans Community Stadium in Boston. The sessions provide men with a safe space to engage and socialise with others whilst having the opportunity to take part in pool, table tennis, table football and much more. It is a great opportunity to find out more about physical activities at the stadium like walking football.
The Divergent Project from Darkside Rising, welcomes neurodivergent people across Lincolnshire into a programme of strength training and online support to empower confidence and self-acceptance. Led by lived experience, it encourages people to explore their authentic neurodivergent self, develop new friendship groups and improve mental and physical health. Additionally, the Women's Health Project provides two streams of specialist strength training and mental health support, helping women who have a mental health condition and are also peri- and post-menopausal, peri and post-natal and parent and baby sessions.
Chris Duncan, Everyone Active's East Regional Manager, currently leads their Healthy Workplaces Project, which receives funding from the Shine MHWCIF. Chris realised that the threat of his physical health was inextricably linked to his mental health when he experienced anxiety and depression following a suspected TIA (mini stroke). He is therefore a great candidate to lead the programme, which takes mental and physical health into workplaces across West Lindsey.
The Project involves promotional campaigns, webinars, and podcasts to educate staff and increase self-care; peer supported sessions where staff can chat to wellness practitioners about all elements of their physical and mental wellbeing and the barriers they face. The services also offers health MOT's, and workplace wellness days where staff can try out new activities at West Lindsey and Market Rasen Leisure Centres for free. Speaking to someone like Chris, that has lived experience, breaks down the barriers that some people face when discussing their health and asking for help. The free exercise sessions are the perfect opportunity to try something out, along with the camaraderie of colleagues. Chris explains that their approach is all about 'the four facets of wellbeing: movement, nutrition mindset, and rest, recovery, and sleep'.
Opportunities to support your work
Shine currently has funding opportunities for projects supporting mental health and wellbeing in Lincolnshire. Find out more about the funding.

All providers of physical activity should have an awareness of mental health problems and how they affect the people you coach or are working with. UK Coaching provide a course, Mental Health Awareness for Sport & Physical Activity+ that allows coaches and physical activity providers to gain confidence in supporting people experiencing mental health problems, learning how to empower positive change and development. The course costs £10, but at Active Lincolnshire we have a number of course codes, meaning Lincolnshire providers have the opportunity to access this course for free. See our courses page for more details if you'd like to access the course.

Through Let's Move Lincolnshire, Active Lincolnshire signpost to opportunities for physical activity on the Activity Finder, and offer more specific advice and signposting through the Let's Move Lincolnshire Moving for Mental Health pages. If you've got an activity to promote please put it on the Activity Finder, or get in touch if you've got a story to share.