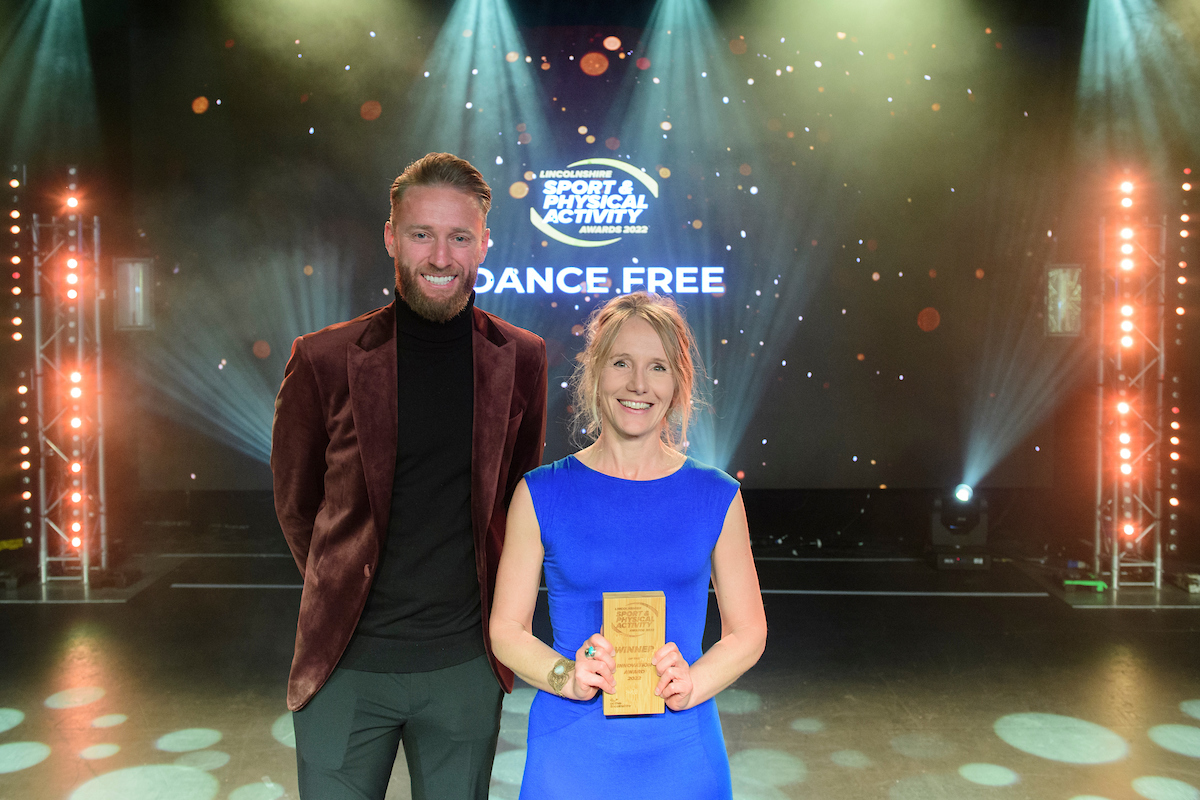 Dance Free won the Innovation Award at the Lincolnshire Sport & Physical Activity Awards 2022.
The award recognises innovative and inclusive projects that bring communities together through movement in an innovative way, and /or that encourage people or groups from non-physical activity settings, who don't usually take part, to start moving more.
Dance Free offers a fun opportunity for people to move freely and connect with others through movement in natural locations throughout Lincolnshire. Hannah Green set up Dance Free as a way to share the happiness that dance can bring with others. Over the last 20 years she has practised yoga and embodiment practices and through music and dance has found a deep connection to her body and soul. She was inspired by travels in Brazil where she felt freedom of expression in movement and music embedded in the culture.
Hannah feels passionate to guide people to discover this freedom in movement in the UK. At the outset of the pandemic Hannah established Dance Free - free-movement dance in beautiful natural locations across Lincolnshire to help people move more, worry less and embrace life.
'There's several shortcuts to happiness, dancing is one of them'
We asked Hannah about the work of Dance Free, to find out why she is so passionate about dancing in nature and the benefits it brings to participants.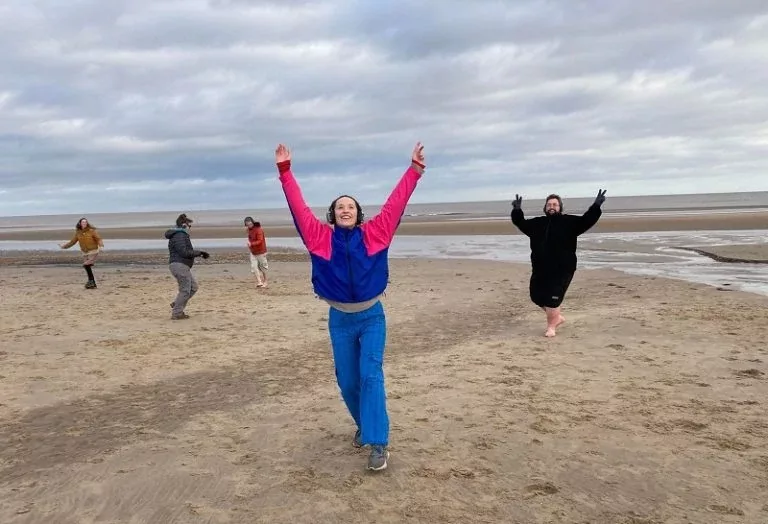 What are your biggest successes from the last year, and what are you most proud of achieving?
We support 500 people each year. Our aim is to boost the well-being and spirit of the local community through outdoor dance and physical activities that connect people from diverse backgrounds. We run weekly sessions for adults as well family silent discos, events at community festivals, team building experiences for organisations and 10 week programmes.
Results from a survey with participants last year revealed:
78% said Dance Free improved their physical and mental health
85% said participation reduced isolation and increased their social networks
The below quote is just one of many positive statements we received that show the transformation the project can bring to people participating.

'My mental and physical health and confidence have improved enormously… I have made such wonderful friends along the way…thank you so much for literally changing my life.'
Kim, 56

What are some of the challenges you face in engaging participants?

The limited rural transport network of Lincolnshire means problems in accessibility to some of our events. We encourage car sharing, provide information on public transport and are looking for ways to collaborate with other organisations to resolve this. We also run events in urban parks to enable easier access for all.
We hear that people are sometimes a little frightened to dance as they feel that they do not know how to dance, feeling they may be judged. We notice that people take a small step out of their comfort zone, and come and have a go, they report a fantastic feeling of liberation.
What have you got planned for this year?
Regular events on beaches on the Lincolnshire East Coast, Sunrise and Sunset sessions on beaches, woodlands and in Lincoln. Look out for our special events in April - 22 April - Dance Free at Lincoln Castle, celebrating Earth Day. on the 29th April we'll be celebrating the International Day of Dance with Beach Dance Revolution on Mablethorpe Beach - a full morning of dancing free!

We'll be dancing in many new locations and collaborating with, amongst others: Natural England, Magna Vitae, Old Wood Organic Skellingthorpe, One You Lincolnshire and the Universities of Derby and Lincoln.
We'll also be offering creative and environmental enrichment workshops throughout the year. And look out for the brand new Dance Free Collective.

Find out more about Dance Free in this short video clip below:


Find out more and keep up to date with Dance Free on their website, or follow them on Eventbrite.
main image: Hannah Green being presented with her award by Dan Hone from Active Arena.