News
Defibrillator installed at Nicholsons Accountants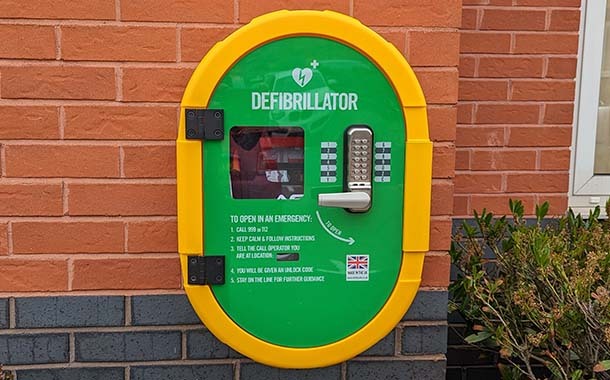 As a tenant at Nicholsons Chartered Accountants Lincoln office building, we welcome the news that an externally mounted defibrillator has been installed at its office, which can be used in an emergency to save someone's life if they experience sudden cardiac arrest.
The automated external defibrillators (AEDs) is in a publicly accessible place, available 24-hours a day and carry's clear step-by-step instructions for people to use.
Nicholson's worked in conjunction with the British Heart Foundation to get the defibrillator, which will be available both to the Nicholson Chartered Accountants team and tenants as well as the surrounding community.
Gail Green, Director at Nicholsons Chartered Accountants, said:


"Many of our staff know people who have been affected by heart attacks and heart disease. We wanted to get the defibrillator installed so that if someone has a sudden cardiac arrest in the vicinity, it is available as for every minute that a person in cardiac arrest doesn't receive CPR and defibrillation, their chance of survival drops by up to 10 per cent – so acting in an emergency is crucial. The work the British Heart Foundation do is invaluable, and we've supported them for a number of years as a charity partner.
We've worked in conjunction with the British Heart Foundation to get the defibrillator, and we're delighted to be able to supply this much needed resource to the local community."

The unit will be added to the national defibrillator network known as 'The Circuit', run by the British Heart Foundation in partnership with the NHS, Ambulance Service, Resuscitation Council UK and St Johns Ambulance. The Circuit provides a national overview of where defibrillators can be found, their location and status is instantly synchronised with the emergency services' systems ensuring that their information is always up to date.
Contributing to this national resource provides the NHS ambulance services with vital information about defibrillators across the UK so that in those crucial moments after a cardiac arrest, they can be accessed quickly to help save lives.
Read more about this news on Nicholsons' website.

Defibrillators for Sport & Physical Activity clubs
Sudden Cardiac Arrest can happen anywhere to anyone, even to the fittest of people - as recent tragic Cardiac Arrest events involving professional sportspersons show. Sudden Cardiac arrest is usually fatal within minutes unless people act. Sport facililities and staff need training in CPR and using an automated external defibrillator. Equipping your sports facility with a defibrillator, or knowing how to access and use one at the venue you use will allow you to be prepared for a medical emergency.
Funding for defibrillators for Sports Clubs


London Hearts
London Hearts are helping to fund Defibrillators in sports clubs all over the country. When someone has a cardiac arrest, timely intervention is the key to survival. By making more defibrillators available, and by training more people to use them, the better the chance of survival for a cardiac arrest victim.
London Hearts are running an initiative to assist sports clubs in obtaining this life-saving equipment, offering a £300 grant towards the cost of every Defibrillator across the whole of the UK.

With every Defibrillator they supply, free online training will also be provided.
Premier League
An investment from the Premier League to install Automated External Defibrillators (AED) and external storage cabinets at thousands of grassroots football facilities, aimed at helping save the life of someone experiencing a sudden cardiac arrest.
Guidance on usage of defibrillators for Sports Clubs

If you use community facilities to deliver your activities but don't own an Automated External Defibrillator (AED), knowing how to access an AED at the venues you use will help to save precious time in the event of an emergency. Club Matters have guidance on how to use an AED and questions to ask venues you use. Visit the Club Matters website.

Register your defibrillator on the Circuit
The Circuit is The British Heart Foundation's defibrillator network, providing a nationwide overview of where defibrillators can be found. Many defibrillators never get used because emergency services don't know where they are or how to access them. If you have a defibrillator that isn't register, visit the link below to add it to the Circuit.